Les Sims French Stamp!
Please note I'm currently working on the new site. I didn't want to take the site offline though, so you can still visit it. However me working on the site while it's still online means a lot of the pages will appear wonky. But not to worry, it won't take too long.

Thursday, December 22, 2005 - 22:10
The French Postal Service commemorates The Sims with an official limited edition stamp.
---
Les Sims French Stamp!
VOILA! THE SIMS EARNS FRENCH STAMP OF APPROVAL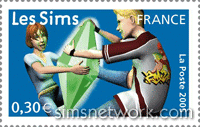 French Postal Service Commemorates The Sims With Official Limited Edition Stamp
REDWOOD CITY, Calif. - December 22, 2005 - Electronic Arts (NASDAQ: ERTS), the world's leading interactive entertainment software company, today announced that the French postal service, La Poste, has honored The Sims™ franchise with an official postage stamp. Published in limited edition of 3 million units, Les Sims™ is one of 10 stamps in the "Heroes of Videogames" collection featuring the industry's most beloved icons. The set will retail for 2.65 euros (approximately $3.09 USD) and is available now in French post offices and through La Poste's website at http://timbres.laposte.fr/eng/
The Sims games are an international phenomenon. Since the original PC game The Sims debuted in February 2000, the franchise has been translated into 20 languages and has sold more than 58M games worldwide. That's nearly enough to provide a copy of The Sims to every single French resident! In fact, The Sims games are so popular in France that they are ranked number eight on the top ten list of entertainment products, right behind the popular novel, The Da Vinci Code.*
"From fashion to food, history to heraldry, the French have always been cultural tastemakers," said EA's Chief Creative Officer Bing Gordon. "We thank them not only for commemorating The Sims with an official postage stamp, but also for making it one of the top ten most celebrated entertainment products in France - Merci!'"
For more information about the franchise or to find out how The Sims 2 will play on your favorite platform, please visit www.thesims2.com